Music of Louis Armstrong Course
If you're like me, the spread of COVID-19 has sent you indoors foreseeable future. This means it's quite possible you have a lot of time on your hands. Looking for a good way to kill some time? Why don't you join in with my "Music of Louis Armstrong" course?
I'll explain. This semester, I have been having the time of my life teaching Music of Louis Armstrong to grad students at Queens College. We're six classes in and about to move to distance learning next week. You won't be able to get the full experience because I haven't recorded any of my lectures plus there's other parts of the class that will not be possible if you don't live in NY or are not practicing social distancing, such as visits to the Armstrong House and Archives and attending live jazz of a pre-bop nature. (I am also assigning two transcriptions and for the musicians in the house, you SHOULD be transcribing Louis Armstrong already.....right?)
What does that leave? Each week, I assign reading and listening assignments via email and ask the students to send me their comments on everything before class. I will not require comments from you, dear readers, but I thought the least I could do is share the links to the assignments so you can listen and read along.
First thing you have to do is read Louis's 1954 autobiography,
Satchmo: My Life in New Orleans
. It's available for free over at
Archive.org
so head over there and start reading. The class had a month to finish it, so take your time, but I was heartened by the response as it really does provide a lot of insight into Armstrong the man and how he navigated those early days in his hometown.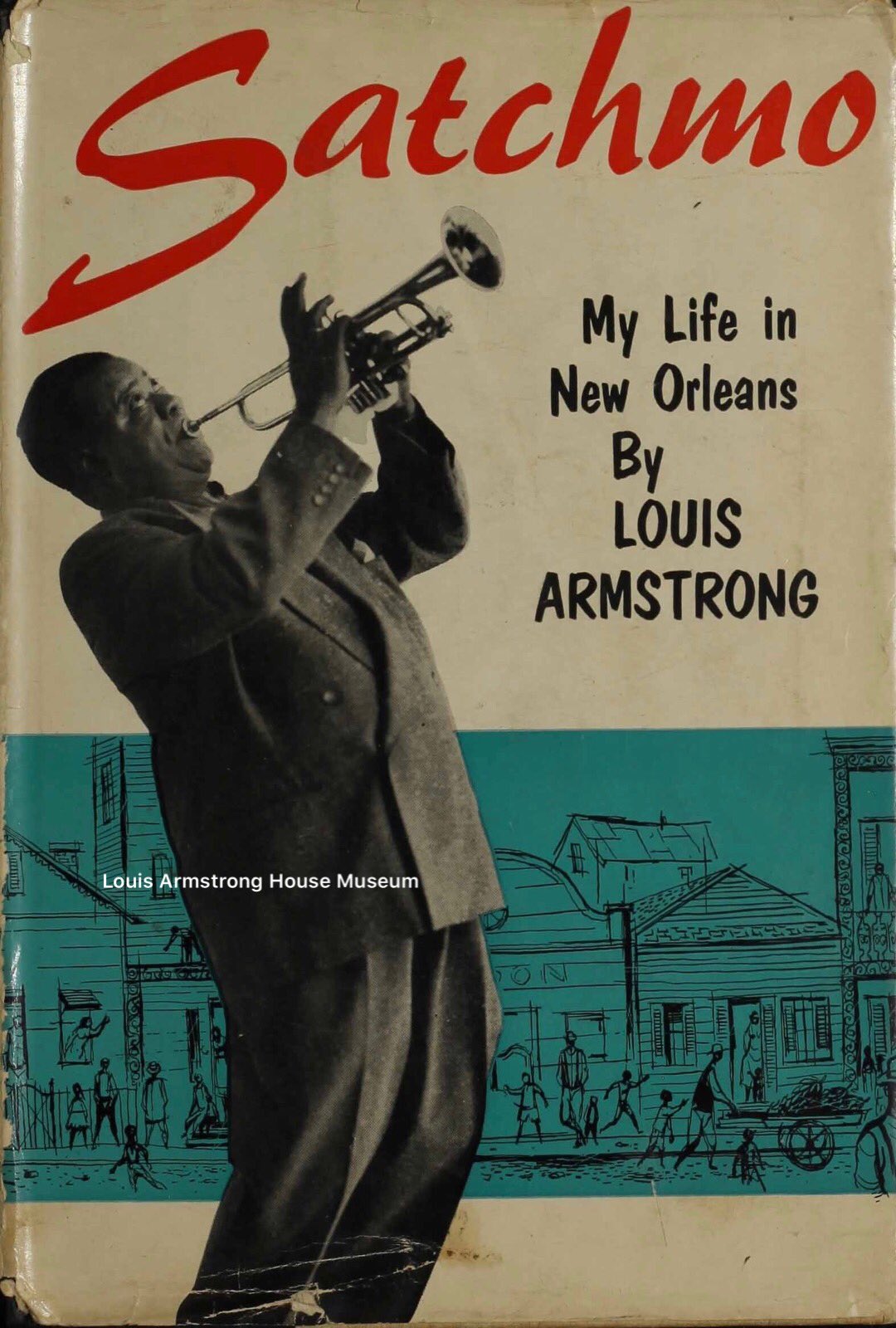 Onto the listening! All of these are links to Spotify playlists so just click and listen along.
Listening Assignment 1: 10 non-Louis tracks just to give a flavor of some (far from all--we got much deeper during the in-class discussion) of the music Louis heard growing up in New Orleans.
Listening Assignment 2: 10 of my favorite tracks of Louis with King Oliver's Creole Jazz Band in 1923.
Listening Assignment 3: I opened with three non-Louis tracks featuring Johnny Dunn, Freddie Keppard and Bix Beiderbecke respectively just to put some different cornetists in their ears but then Louis enters with a selection of his finest work with Fletcher Henderson, Clarence Williams, the blues singers, Bechet, etc.
That listening assignment also came with a new reading assignment, Lewis Porter's liner notes to the LP set,
Louis Armstrong and Sidney Bechet in New York
. You can download a PDF through Dropbox by clicking
HERE
.
Listening Assignment 4: Hot Fives and Sevens time....'nuff said!
Listening Assignment 5: Louis and Earl...'nuff said!
The reading assignment to cover Louis in the 1920s was Gunther Schuller's chapter in
Early Jazz
, "The First Great Soloist," which can also be downloaded via Dropbox
HERE
(reactions to that piece were wild, some people loving it, some people hating it, some finding Schuller a tough critic, others finding him just plain mean).
Listening Assignment 6: Louis's early big band work from 1929-1931. I try to cap these listening assignments at 20 tracks per week--this was truly my toughest week so far because so many out-and-out classics had to end up on the cutting room floor. I was excited to really dig deeper in class....but alas, it's not to be.
And I gave my students a choice between two readings (I have a lot of non-native English speakers in the class and don't want to bombard them), Humphrey Lyttelton's chapter on Louis from
The Best of Jazz 2
or the relevant chapters from Max Jones and John Chilton's underrated
Louis
book from 1971. (I almost gave them some sneak previews from my next book but it's almost too in-depth and didn't want to hit them with too much.)
Assignment 7 covers the magical period between 1932 and 1937. I only assigned one short reading, the chapter
Swing That Music
from Max Jones and John Chilton's "Louis" but I added a half hour to the listening because this period is so fertile. Here's the playlist:
Listening assignment 8, assigned on March 24, covers a lot of ground, 1938-1950, and a lot of different settings but it's great hearing Pops navigate the changing musical landscape and eventually arriving at the All Stars in live settings in addition to the biggest pop hits of his career up to this point in the studio:
Also, if you have a copy of my previous book,
What a Wonderful World: The Magic of Louis Armstrong's Later Years
, lying around, start reading now and just keep going until there's nothing left to read.
Next up, Listening assignment 9, covering the particularly fruitful 1950-55 years with great stuff from the Teagarden-Hines All Stars (live and in the studio), the big pop hits ("La Vie En Rose," "A Kiss to Build a Dream On," etc.), duets with Ella Fitzgerald and Louis Jordan, and then a sampling from the masterpieces
Plays W. C. Handy
and
Satch Plays Fats
:
Listening assignment 10 might have been my class's favorite and mine, too, as it covered the golden period between 1955 and 1957. After the opening of "Mack the Knife," there's three
Ambassador Satch
tracks with the Louis-Trummy Young-Edmond Hall band, then we hit
Ella and Louis
, bring the All Stars (and more) back for a handful of tracks from
Satchmo: A Musical Autobiography
, back to Ella for
Ella and Louis Again
, one track from
Louis Under the Stars
and finally, three from
Porgy and Bess
. A magical period!
Listening 11 covered the 1957-1961 period and was heavy on collaborations, featuring works with Oscar Peterson, the Dukes of Dixieland, Duke Ellington and Dave Brubeck. In between, one track from
Louis and the Good Book
and we check in with the All Stars at Newport in 1958 and recording
Satchmo Plays King Oliver
in 1959:
And that catches you up! Again, without my lectures and the other components to the course, you're not exactly getting the full experience, but hey, if we're all in this together and staying out of the public for a while, there are far worse ways to spend time as we ride out this pandemic than by listening to and reading about Louis Armstrong!
If you're interested, bookmark this post and I'll add more assignments as the semester rolls on (oh, my Spotify profile is public but don't get too ahead of yourselves as I tentatively planned out future listening assignments but I usually tinker and change things right to the last minute, plus I forgot a week off for Spring Break, which will result in smashing together a good chunk of All Stars material).
Enjoy--and be safe out there! (And #SixMinuteWithSatch posts will resume on Monday!)