Mahogany Hall Stomp - Part 1
Louis Armstrong and His Orchestra
Recorded March 5, 1929
Track Time 3:18
Written by Spencer Williams
Recorded in New York City
Louis Armstrong, trumpet; J.C. Higginbotham, trombone; Albert Nicholas, clarinet; Charlie Holmes, alto saxophone; Teddy Hill, tenor saxophone; Luis Russell, piano; Eddie Condon, banjo; Lonnie Johnson, guitar; Pops Foster, bass; Paul Barbarin, drums
Originally released on Okeh 8680
Currently available on CD: Both the JSP and Sony Complete Hot Five and Hot Seven boxes have it but it's also on a bunch of compilations
Available on Itunes? Yes
It's taken me a few weeks to deliver this entry as promised but hopefully it'll be worth the wait. Today, I'll be looking at the history of "Mahogany Hall Stomp," which Pops first recorded 80 years ago this month. In fact, he recorded it the same day as "Knockin' A Jug" and "I Can't Give You Anything But Love" so if you really want to know the full background of this session, seek out those marathon posts from earlier this month. Also, I'm going to try something a little different because I know that sometimes my exhaustive looks at certain Armstrong works can get a little exhausting. Thus, I'm going to do "Mahogany Hall Stomp" in three parts, dealing with the first two studio recordings today, some 1940s renditions of it tomorrow and finally, some 1950s performances on Friday. Thus, you'll be able to clear your mind a bit in between entires...and I'll have more time to write!
To quickly recap, Armstrong came to New York in March 1929 for a short period of time to perform with Luis Russell's orchestra at the Savoy Ballroom and two record two sides with the Russell band for OKeh. At a party thrown in Armstrong's honor the previous night, Eddie Condon convinced Tommy Rockwell of OKeh to record some of the musicians present--black and white--because it would be tough to ever get another gathering like this again. The next morning, over a jug of whisky, a small integrated group recorded the classic blues "Knockin' A Jug." Later in the afternoon, Armstrong returned to front the Russell band on his first great recording of a pop tune, "I Can't Give You Anything But Love."
With that behind him, it was time to turn back to New Orleans to do a Spencer Williams composition, "Mahogany Hall Stomp." I've seen it written before that this was an older composition, something the bands in New Orleans used to play, but I have not been able to pinpoint that as a fact. What is indisputable, however, is what the song was named after. I'm going to let Floyd Levin take over:
"Mahogany Hall was an imposing three-story structure built from rough-hewn granite blocks. It stood at 335 Basin Street near Iberville, just a block away from Tom Anderson's landmark saloon, the first barroom illuminated by electricity in the country....According to [Anderson's] Blue Book, 'Lulu White's Mahogany Hall, aside from the handsome women, possesses some of the most costly paintings in the South.' The city's most famous bordello was housed beneath castle-like turrets. It faced the Mississippi River, approximately a half-mile from the Canal Street ferry landing. 'Lulu White's parlor had mirrors that cast $30,000,' Jelly Roll Morton recalled during his Library of Congress interview with curator Alan Lomax. Historian Danny Barker told me, 'The place was all colored lights and mirrors--lots of mirrors--some even on the floor where the girls danced. You talk about miniskirts--their dresses were up to
here
. They wore lace stockings and big garters and not much else. Each girl kept a bill inside her stocking way up by her thigh. The denomination of the bill was the girl's price. Some had $2 bills, some $5. Occasionally you'd spot a ten--not often.'"
The internet is a wonderful place so here are some photos I dug up after a quick search. Here's the outside of Mahogany Hall:
And the inside, complete with a few working ladies: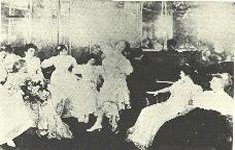 Here's the inside again, sans ladies:
And finally, Ms. Lulu White herself: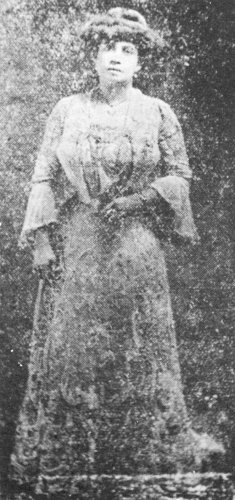 As Levin points out, there was a pretty clear connection between the song's composer and the hall's proprietor: "The famed New Orleans composer Spencer Williams was born in Mahogany Hall, the most glittering of all the Basin Street mansions. His mother, Bessie Williams, was Lulu White's sister and one of the 'entertainers' at the hall. His loving 'ants' helped raise him. Williams' classic compositions, 'Mahogany Hall Stomp' and 'Basin Street Blues,' were musical tributes to his birthplace."
Who knows how many of the musicians in Russell's bands had fond memories of performing at Lulu White's Mahogany Hall (and yes, I mean that in multiple ways). Almost the entire Russell band was made up of Crescent City natives, including the two guest stars, Armstrong and pioneering guitarist Lonnie Johnson. The band dug their heels into this one and produced a joyous masterpiece. Give a listen:
The actual composition of "Mahogany Hall Stomp" isn't much. After an opening stop-time introduction, the band plays a strain that resembles the old spiritual "Bye and Bye." And after that, it turns into a 12-bar-blues. Yep, a spiritual and some blues...sounds like New Orleans to me!
There's a little bit of sloppiness in this original recording, but it all adds to the spirit. Armstrong disappears for a second in the opening but recovers with a fleet-fingered break before he begins playing a wistful lead, obviously thinking about the old days. Behind him, the other horns play a semblance of an arrangement but different voices occasionally poke out either suggesting sloppy reading or spirited ensemble playing. Either way, it's not much of an arrangement, but Armstrong's lead stands out.
When the tune switches to the blues, bassist Pops Foster sounds momentary lost, sawing away with his bow and hitting a few off notes behind Charlie Holmes's very good alto solo. After Holmes, the band drops out (except for Russell's piano comping) and lets Lonnie Johnson take it for a dazzling unaccompanied chorus (Eddie Condon was there with his banjo and he's audible on "I Can't Give You Anything But Love" but I can't hear him on this one). Johnson was a giant and I think deserves equal billing with Eddie Lang when people talk about the first jazz guitar virtuosos.
But something happens while Johnson solos. It's almost as if Armstrong huddled together with the rest of the band and said, "Hey, cats, let's begin the Swing Era...RIGHT NOW." Obviously, he didn't say anything like that but all of a sudden when Pops takes his solo, the piece zooms ahead from the shaky, 1917-style two-beat of the first section to pulsating, swinging, sweating, modern jazz. Pops Foster ditches the bow and starts walking, Johnson doesn't quit playing countermelodies and Pops takes over, mute in bell, for three of the most perfect choruses he ever blew. Listen to the solo again:
It's one of those great Armstrong moments, more than likely improvised on the spot yet I don't think anyone could have composed anything any better. The Armstrong "Mahogany Hall Stomp" solo comes in three flavors: the first chorus is rather relaxed and finds Armstrong taking a rather simple motive and playing it from every angle possible. The second chorus finds Armstrong marrying great feats of skill with pure crowd-pleasing showmanship as he holds a high Bb for the entire 12 measures, the tension mounting with each passing second. And finally, in his third chorus, Armstrong equates swinging with simplicity as he repeats a simple five note riff six times, the first four notes ascending and the last note dropping all the way back down like a weightlifter who bit off more than he could chew.
And listen to Johnson in with him every step of the way; it's practically a duet! The rhythm section couldn't swing any harder and Pops responds. J.C. Higginbotham's trombone is next and though Higgy could usually be counted on to generate serious heat, he's rather subdued here, probably knowing he couldn't top Armstrong's effort. Armstrong's back almost instantly to rescue Higgy and, dragging the band behind him, swings out for two choruses. Again, some of the band sounds like they're playing an arrangement but the rest seem content to improvise quietly without getting in Armstrong's way. Armstrong almost pays them no mind. He used to talk about listening to the "band in his head" whenever he wasn't happy with what was going on around him. I don't want to come right out and say Armstrong wasn't happy, but he sounds removed from their clumsiness. His lead swings like mad, especially with the sharp notes he plays to connect the choruses (the same rhythm he used to connect the second and third chorus of his solo) and he absolutely nails the ending. Perfection.
Even until today, that three-chorus trumpet solo is usually played when a band tackles "Mahogany Hall Stomp." It's practically become part of the composition. Armstrong trotted it out countless times over the years but he also enjoyed tinkering with it and improvising fresh ideas. For example, let's look at his first remake, done for Victor in April 1933. I've often argued that Armstrong's absolute peak as a trumpet player came during the Victor sessions of 1932 and 1933. His lip was starting to give him problems during live performances but on records, he was able to do it all. His style was made up of equal parts of the dazzling virtuosity of his 1920s playing and the operatic, powerhouse playing that was to come.
For "Mahogany Hall Stomp," Armstrong was leading his own band, featuring the likes of Scoville Brown on alto saxophone, Yank Porter on drums, a young Teddy Wilson on piano and the Johnson brothers, trombonist Keg and tenor saxophonist Budd. This is only four years later but listen to how different the band sounds. Armstrong taught the world how to swing in the 1920s and by 1933, the big band scene was beginning to catch up. Here's the Victor:
The tempo's up, but Armstrong's more than ready, gently caressing the opening strain, mixing equal doses of fleet phrases and some huge, burning high notes, the band accenting the first beat behind him, something he thrived from. Brown takes the first solo and it's a swinging one. The band is smoking behind him, riffing like mad. The great Budd Johnson follows with a big, Hawkins-like solo (someone shouts "In there!") but again, the main event is Pops. Once again muted, someone obviously forgot to tell Armstrong that his original solo was so classic, he wasn't supposed to play anything else. Instead, Armstrong comes up with something even more dazzling:
Armstrong opens with a similar idea but proceeds to improvise some completely new ones before beginning the world's slowest gliss. He begins it at the turn-around at the end of his first chorus and builds ever-so-slightly, higher and higher, before finally reaching the destination of high concert Bb midway through his second chorus, holding all the way (guitarist Mike McKendrick does his Lonnie Johnson impression, setting Pops up with some nice fill-in-the-crack riffs). In his third chorus, instead of playing the ascending, five-note riffs, Armstrong eliminates the middle man and just starts hurling glisses, one after another. Like I said, the man was at his peak.
Armstrong's quickly followed by an incredibly exciting effort by trombonist Keg Johnson, who comes out scattering notes all over the place. Armstrong's rideout, backed by riffs, is stunning. The way he alternates between the two high notes in the start of the last chorus is something he often did (I'm also thinking "Cake Walking Babies From Home" right now) and apparently, it came from King Oliver. In a 1956 Voice of America interview, Armstrong talked about hearing Oliver play "It's A Long Way To Tipperary" during parades in New Orleans and he specifically sung that exact two-note rhythm. By the way, during the same Voice of America interview, Armstrong chose this version of "Mahogany Hall Stomp" to play instead of any other.
That's all for today. Tomorrow, I'll continue with the 1936 Decca and some 1940s versions. Til then (and New York memebrs,don't forget about the Chappie Willet concert tonight by Vince Giordano's Nighthawks!).